Is your organization ready for what experts believe will be the most active hiring season of this decade? If you want to stay on top of your industry, then you need high performing employees to get the job done and lead innovation in the workplace. Investing in talent management solutions can be the single-most important aspect of this process. From creating talent-attracting job descriptions and incentive programs to succession planning activities, a talent management program that's geared towards employee performance metrics can take your business to the next level of greatness.
As you can see from the above infographic, there are several good reasons why investing in a talent management solution can be a good one for your business, especially when it comes to employee performance. Employees who are top performers tend to produce twice the revenue of low performing employees, they are less likely to quit, and they are more likely to be engaged in the goals of the company as a whole.
Top Performers – When Employees are Engaged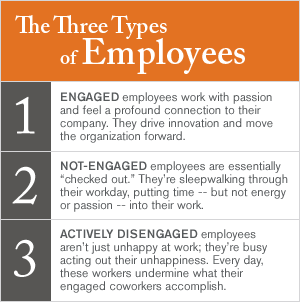 What does a top performance employee look like for your business? There are actually three levels of engagement that performance based talent management produces. Let's take a look:
Level 1 – Employees Disengaged
For whatever reason, be it lack of incentives or poor management, sometimes employees become so disconnected from their jobs that they end up being counter-productive. If this is the case, you will need to take action fast in order to protect your organizational goals and restore team productivity.
Level 2 – Employees Not Well-Engaged, Yet
Oftentimes, employers believe that if their employees are not complaining or they are meeting basic expectations, they are happy and engaged. However, this is a mistake because employees who are on the fence can turn into disengaged and destructive forces. Make sure you are nurturing your staff with ongoing talent productivity management and employee incentives.
Level 3 – Highly Engaged Employees
This is the place where ideally you'd like to get all your employees. Realistically, you can expect that about two-thirds of your workplace will be highly engaged, and the other part will fall into the previous levels. Highly engaged employees are excited about their work and look forward to sharing their ideas in peer groups. They tend to be innovators and motivators. These are the employees who are the future leaders of your organization, who help your business to thrive.
How to Measure Employee Performance? Use 360 Feedback
A key talent management tool which measures employee performance is that of the 360 degree feedback survey. Overall, performance evaluation is a combination of communication and assessment of employee performance, using a series of questions that are designed to uncover certain levels of employee satisfaction. When used effectively, this employee performance metric can identify problem areas that need correction, and help the HR leadership to design more relevant employee performance enhancement programs and incentives.
In the above graph, you will note that the information gathered in a 360 Feedback survey comes from work-related sources, or those in each employee's daily work environment, information that is which are then interpreted for the benefit of the executive team (leaders). This is essentially information, guidance, and instruction that come from four sources in the employee experience:
Direct – This is the information that arrives directly from the employer, through written and verbal communication. It can come from the CEO or the executive team, or it may just filter through department managers. The key is that you want to control this information so that it is correct.
Management – Information and guidance that comes from each employee's immediate supervisor or department. Whether negative or positive, this has an effect on the performance levels of employees.
Peers – When it comes to attitudes and values, the corporate culture has a lot to do with the overall performance of employees. This is especially true during changes in an organization, when employee morale shifts.
Others – Whether through local media, social networks or the office gossip shared around the water cooler, employee productivity can be influenced by information heard in other sources. A good talent management system takes this source into consideration, and gives employers tools to control PR.
By using a 360 Feedback at least once per year, an organization can better monitor and deal with the above sources of information that affect performance metrics with a talent management system.