For many recruiters, each day at work is packed with activity. Staffing professionals have to balance communicating with employers, sourcing candidates for open positions and completing paperwork, as well as staying on top of many more routine tasks. Agencies rely on maintaining a high volume of placements, and the responsibilities involved can make for long hours.
Fortunately, staffing software offers the means to transform those tight schedules. The Jobscience Hiring Logistics interface streamlines processes like matching workers with the vacancies that are right for them and managing payroll, freeing up hours on a daily basis. If you had six more hours in the day, how it would change the way you do your job?
Make better matches
"Using an advanced auto-matching system, staffers move efficiently."
With more time, staffing professionals have the flexibility to find individuals with the right education, skills and experience for each job. Hiring Logistics provides an overview of all relevant work sites and the current demand for workers. Using an advanced auto-matching system, staffers move efficiently to find the most qualified person with the availability to take on the position.
Cutting down the hours recruiters have to spend sorting through resumes allows them to concentrate on making higher quality placements. It becomes possible to take into account more of the knowledge and experience that would be nice to have in a worker in addition to the essentials. In turn, those improved matches lead to more satisfied workers and employers alike.
Keep an eye on your placements
Greater freedom brings opportunities to monitor and communicate with workers, ensuring things go smoothly on the job. Recruiters gain constant visibility into conditions in the field, with real-time updates on whether an employer needs another worker or an employee has to take a day off. With automated scheduling and acceptance, staffing professionals can be confident they have a qualified individual in place for every shift.
Hiring Logistics includes real-time mapping, providing recruiters with a view into whether employees showed up on time across multiple locations. If there's an issue with absenteeism or tardiness, the staffing professional can spot it early and take action. An integrated chat function makes it simple to communicate with workers and address any questions or problems.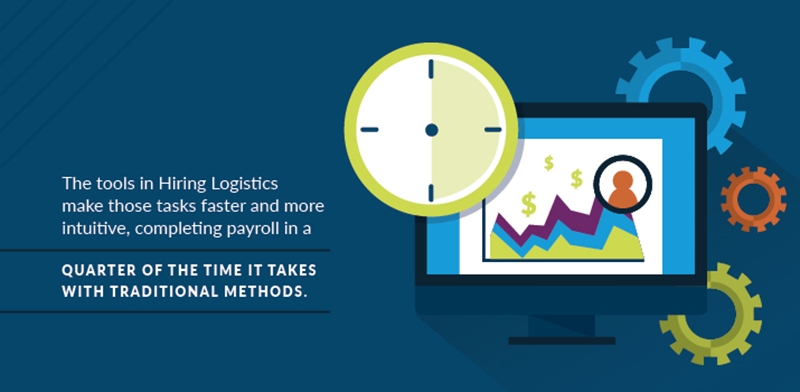 Connect with workers
All the paperwork involved in running payroll and maintaining regulatory compliance can easily fill up the day of a hiring professional. That results in cutting recruiters off from the very people they are helping. The tools in Hiring Logistics make those tasks faster and more intuitive, completing payroll in a quarter of the time it takes with traditional methods.
One of the greatest advantages of freeing up some of the work day is creating chances to get to know workers better. Forming closer relationships with employees pays off over time as staffers repeatedly place a skilled individual in various positions. Those matches are also more likely to be successful when the recruiter has a clear sense of each worker's abilities, needs and preferences.
Spot opportunities
When recruitment software gives staffers an advantage, they no longer have to play catch-up. With hours added to their days, they can look ahead to the next challenges. A proactive stance allows recruiters to source stronger candidates and more effectively meet the shifting needs of employers.
Time is an invaluable commodity in recruitment, and it's all too easy to let the day be swallowed up by a wide range of responsibilities. Integrated into Salesforce, the Jobscience Hiring Logistics interface is designed to put those hours back in the hands of staffing professionals. When recruiters are empowered to take control of their own days, they can accomplish more for their agency, employers and workers.