In the onboarding process, new hires transition from candidates to employees. A thoughtful approach to the requirements often makes the difference in getting individuals off on the right foot, giving them the best chance to find success in a position. For staffing professionals, the challenge is ensuring onboarding includes all the necessary steps but is also handled quickly and efficiently.
Recruiters rely on maintaining a high volume of quality placements, and slow onboarding can get in the way. Staffing software can help, cutting through the paperwork in a fraction of the time necessary for using traditional methods. The Hiring Logistics interface from Jobscience is designed to maximize efficiency for onboarding, compliance and payroll so you can get the right workers on the job faster.
Sharing vital information with ease
"Spacing out the paperwork makes a smoother transition."
Collecting data from employees and familiarizing them with the company where they'll be working are key aspects of onboarding. However, these parts of the process can also be time-consuming and overwhelming when piled on the worker for the first day. Spacing out the paperwork and providing some background on the job in advance can make for a far smoother transition.
Hiring Logistics simplifies these tasks by gathering all the relevant data for onboarding and payroll in a central location. Fully integrated into Salesforce, Jobscience makes it quick and easy for candidates to submit their information and for recruiters to plan ahead. With real-time updates on personnel needs, built-in instant messaging and a module for speedily running payroll, staffing professionals have the agility to get the best-qualified employees approved and onto the roster when companies need them.
Scheduling workers in moments
Setting hours for workers can get complicated, requiring staffers to balance the demands of employers and the availability of the new hire. Especially when you're managing many new workers every week, rearranging calendars often eats up hours of the work day. On the other hand, being able to assign shifts to an employee immediately makes onboarding smoother for everyone.
The auto-scheduling feature in Hiring Logistics minimizes the friction of incorporating a worker into the calendar. New hires are instantly matched with the sites where they are needed. When staffers have all the data and tools they need at their disposal, they are free to move seamlessly from sourcing candidates to putting them to work.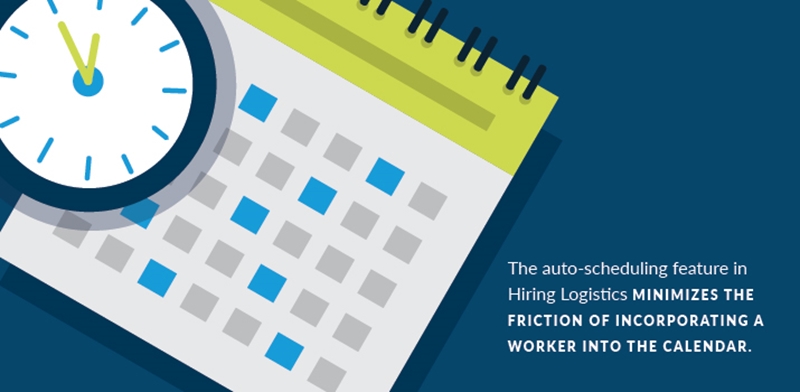 Staying in line with regulations
A major challenge for onboarding workers as as fast as possible is that recruiters must also be cautious about meeting the requirements for regulatory compliance. The staffing agency has a responsibility to be aware of any requirements for licensing or limitations on exposure to hazardous conditions. Hiring Logistics incorporates a compliance module that verifies whether each worker possesses the necessary credentials and checks that the recruiter has not over-scheduled any employee within a given period.
Monitoring results
Onboarding isn't over when a staffing professional has matched a worker to an opening and completed the required paperwork. Powerful recruitment software makes it possible to monitor how the employee adapts to the new role. Hiring Logistics offers real-time mapping so the staffer can see whether a worker makes it to the worksite on time as well as instant messaging to address any problems or questions that may arise in the first days.
Greater speed and visibility make the onboarding process more robust and intuitive for staffing professionals. With more time on their hands and greater flexibility, they are free to form deeper connections with both workers and employers. The Jobscience Hiring Logistics interface accelerates and empowers onboarding, so staffing professionals are able to focus on human relationships instead of paperwork.