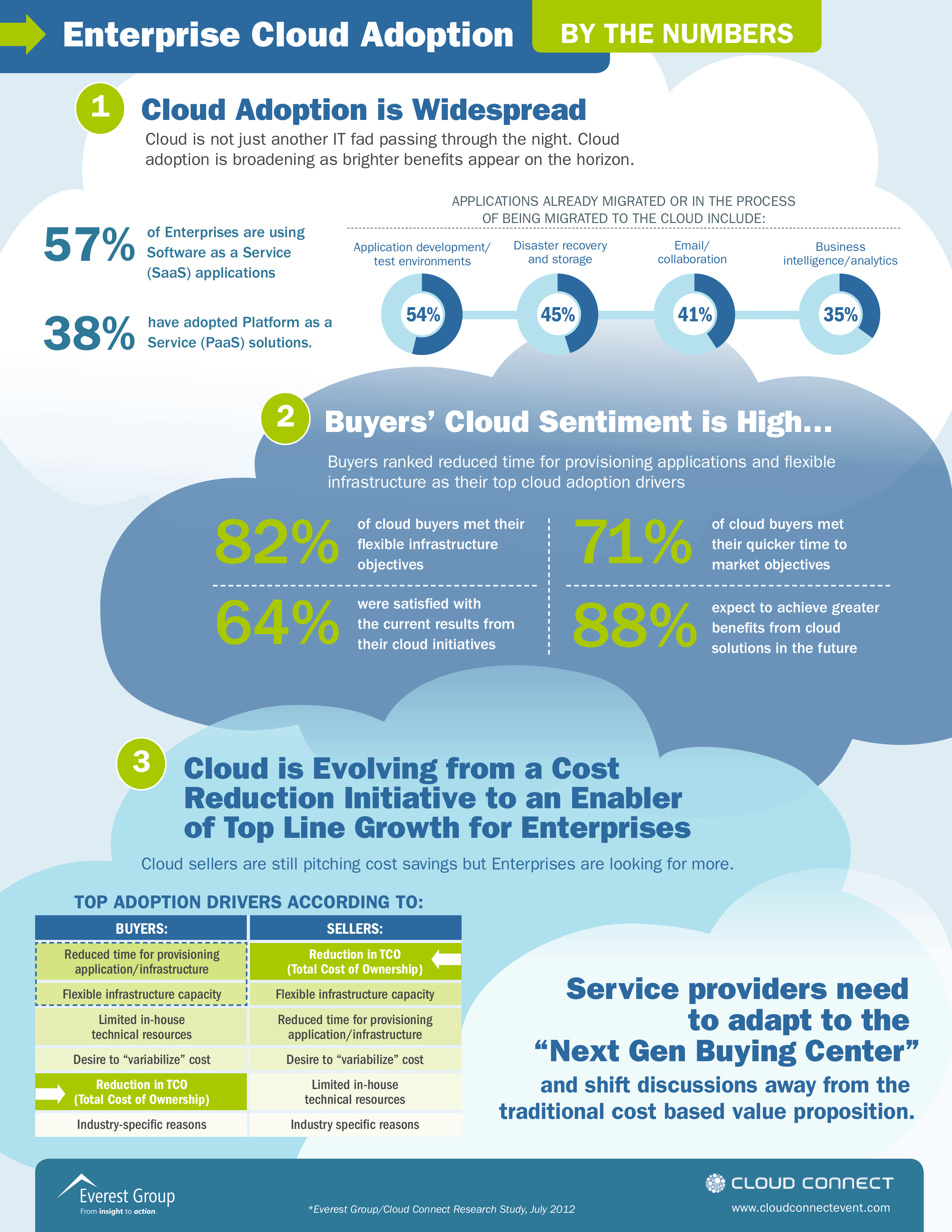 Is your business on "the cloud" yet? If you are like the millions of businesses out there that are connecting in real time using social recruitment networks, web-based customer management systems, and online business tools, then chances are you are already part of the cloud technology movement.
What is trending with business cloud computing?
According to the 2012 Enterprise Cloud Adoption Survey conducted by Cloud Connect, a virtual event management firm, more than 57 percent of the businesses polled already have a cloud product (also referenced as SaaS) in place, with another 38 percent making adaptations to cloud technology. From application testing environments and disaster recovery storage to business intelligence and workplace collaboration tools, businesses are apt to turn to cloud computing for a variety of reasons – to save costs and become more efficient. This, in turn, enhances the return on investment (ROI) of many functions, including recruitment activities.
How does cloud technology work in business?
The idea of information virtually floating around may concern the average HR practitioner, but the way in which cloud computing works is actually more secure than standard methods of administration. Let's consider how cloud technology actually works.
For the business sector, access to a private and secure API or web-based login is provided by a cloud hosting company. This only allows authorized users to have access to information and resources.
A secure channel is set up for the individual company, for scalable information storage and exchange in real time. Data is interchanged using secure encryption and is locked behind a server firewall.
Cloud servers manage the data from a virtual server network established for the purpose of the business SaaS actions. This data is distributed only for this network to authorized corporate users.
Data can be managed and accessed using a variety of mobile and computing devices, as determined by the company.
How does cloud computing support Human Resources and recruiting?
There are many reasons why a cloud computing business model works well in human resources and recruitment management. First, it's easy to manage with a central location where all communication, documentation, notes, and files are stored. Second, it's intuitive, with the ability to integrate into existing systems and get past the learning curve quickly. Third, cloud computing is perfect for the busy human resource team to streamline all processes and increase efficiency. Last but not least, it's cost effective and in most cases a lot less expensive than building a custom HR product from scratch. This is important for those companies who would like to avoid bankruptcy due to increased debt from product development.
The above graphic explains further how cloud computing technology can support an HR and recruitment department that's already stretched too thin. With companies cutting back on resources, having access to a central cloud application can have a positive impact on ROI, and provide more for less.
Benefits of cloud technology in recruitment
Having the ability to virtually share candidate information, and manage client tasks as efficiently as possible is key to success in recruitment. A cloud recruitment strategy can provide a cost-effective, fully integrated approach to recruitment across all team members. Cloud technology is "plug and play" meaning it works right out of the box and adds value to existing products used by the recruiters. All of these benefits make cloud technology the perfect fit for the talent management industry.